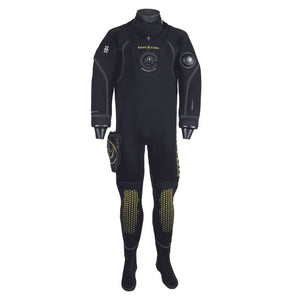 Aqua Lung Blizzard Pro Men's Drysuit
The Blizzard Pro Men's Drysuit is Aqua Lung's advanced drysuit featuring premium compressed Yamamoto neoprene. The re-designed Blizzard Pro now includes SLT technology for the wrist seals, a new cargo pocket with a large opening, a mesh drain panel, and ultra-reflective outside safety tape. The Blizzard Pro comes with comfortable braces and is available with integrated socks or boots.
Features
Environmentally friendly features: neoprene free of P.A.H. (Polycyclic Aromatic Hydrocarbons) and made from a non-petroleum based material.
Yamamoto Compressed 4mm neoprene # 88 used on the entire suit will keep its thickness even on deeper dives and limit any excess buoyancy.
Shoulders and arms outside lining called 'Small Diamonds' offer very good resistance to friction
SLT System on-wrist seals for easy on and off, comfort, easy replacement and glove clip
Double neoprene collar with Hook and Loop tab for better adjustment
Taped seams on all the inside for water blocking integrity.
Ultra-reflective outside safety tape
Non-slip prints on shoulders helps to keep the BC shoulder straps in place.
Rubber patch on wrist to keep the computer in place
The improved Powertex reinforcement panels allow increased flexibility while offering excellent abrasion resistance
The separate hood offers a face seal to limit water entry, and our G2 Vent Technology allows any trapped air bubbles to exit while keeping cold water out.
The new cargo pocket offers a wide opening and a mesh bottom panel.
Elastic suspenders including a 3D mesh back pad and a neoprene chest pocket for personal gear.
Comes in a mesh bag
Check out our full selection of drysuitshere! Or click here for our full range of Aqua Lung products.