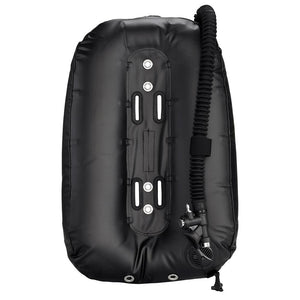 Apeks WTX-D40 PSD Single Cylinder Wing
Apeks single cylinder wings are a smart design that allows a cylinder to nest deep inside them. These wings mate up nicely to the rest of the Apeks WTX collection of high-quality harnesses, plates, and accessories. They can be configured in multiple ways to match the type of diving that you do. As with the rest of the WTX collection, these single cylinder wings are built from the finest quality materials. They are designed by Apeks and built in our own factory.
(WTX single tank adapter is not required)
Features
Inflator
K style with brass buttons
Low profile 16" oval-shaped hose
Safety cable to prevent hyper-extension
Positioned off-centre so as not to interfere with regulator 1st stage
Dump Valve
Low profile flat valve
Positioned in front, lower-left side
Tank Stabilizer Bars
Drains:
2 large drain grommets
Centre mesh drain panel
Materials:
Exterior: 1000D Armor shield Cordura
Inner air cell: 22mil (.022) thick black urethane
Zipper: heavy-duty plastic zip and slide
The 30lb and 40lb wings are able to accept an optional Retractor Kit.