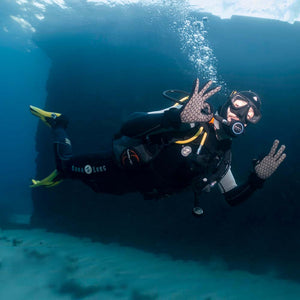 6 Dive Pack
Whether you're a certified diver wanting to make a dive while you're here in Malta or you're wanting to do an extra dive after a Try Dive, this is the perfect option! If you would just like to do some diving around Malta, there are so many dive sites to choose from.
It doesn't even matter if you don't have a buddy, let one of our experienced instructors guide you around some of the best diving in the Mediterranean.
What's included?
Our six dive package includes the following:
A PADI Instructor who is a certified Dive Guide Local
Hotel Collection (if required)
Cylinders for your dives including Air or Nitrox
Exclusions
Mask & Snorkel
Wetsuit
Boots
Fins
BCD or Wing
Regulators
If you require 4 or more of the above items you will be charged a maximum of 15/day.
What do I need to bring?
Please ensure that you bring the following items:
Swimming suit
A towel
Money to buy yourself some food
Your Scuba Diving Certification and Logbook
Fitness to dive
Before anyone gets in the water, we need to ensure that every participant is fit to dive. The way we do this is by getting each participant to read and complete the PADI Medical Statement.
Please answer the following questions in the link below on your past and present medical history with a YES or NO. If you are not sure, answer YES. If any of these items apply to you, we must request that you consult with a doctor prior to your scuba diving experience.
Let us know if you answer YES and we will supply you with a PADI Medical Statement and Guidelines for Recreational Scuba Divers Physical Examination to take to your doctor.
*Please note: You will not be able to take part in any in-water activities without confirming your fitness to dive.
Itinerary
Day 1 - Dive 1 & 2
Arrive: 08:30am
Depart: 09:00am
Scuba Diving: Complete 2 dives in one day
Day 2 - Dive 3 & 4
Arrive: 08:30am
Depart: 09:00am
Scuba Diving: Complete 2 dives in one day
Day 3 - Dive 5 & 6
Arrive: 08:30am
Depart: 09:00am
Scuba Diving: Complete 2 dives in one day
Meeting Points
If you do not choose pick-up, you can start the experience here:
Divewise

Westin Dragonara Complex, St. Julians, Malta STJ 3143
Pick-Up
Pick-up starts 10 minutes before departure. We offer pick-up to the following places for this experience:
Sliema
Gzira
Msida
St Julians
Cancellation policy
We will charge a cancellation fee of 100% if the booking is cancelled 48 hours or less before the event
We will charge a cancellation fee of 50% if the booking is cancelled 72 hours or less before the event
We will charge a cancellation fee of 0% if the booking is cancelled more than 72 hours in advance of the event