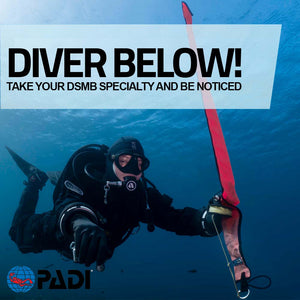 PADI DSMB Specialty
As you start to venture further afield with your diving, you will quickly learn the importance of alerting people on the surface to your position underwater.
A delayed Surface Marker Buoy (DSMB or SMB) is an essential piece of equipment for any diver. Whether you need to summon the boat to pick you up after a dive, find a missing buddy, ascend without a fixed reference line, warn off boat traffic, or even request extra cylinders.
This course will teach you how to easily, safely, and reliably deploy a DSMB; giving you the peace of mind that you are comfortable using this essential (though initially daunting) piece of equipment whenever you may need to.
What do I need to start?
PADI Open Water Diver or Junior Open Water Diver certification (or qualifying certification from another organization)
Minimum age: 12 years old
What will I do?
Upon completing the PADI Surface Marker Buoy Speciality, you should be able to understand:
The various uses of an SMB or DSMB
The differences between each type and colour of the marker buoy.
The advantages and disadvantages of various types of reels
Deployment of a DSMB from underwater
Considerations of deployment
location-based on hazards and current conditions
Preparation of equipment before and after deployment
How long will it take?
2 dives over one day
What will I need?
You will need to provide your own DSMB and Spool - or you can rent from us
Full Gear is included on your course except DSMB and Spool
Where can I go from here?
Knowing how to use an SMB is especially useful for Boat and Drift dives, why not look into their respective specialty courses to safely introduce you to each?
It also comes in very handy for the majority of our trips and holidays, which are largely sea or boat dives, contact the shop to find out where we are going next.
As a PADI Specialty and part of the adventures in diving program, this course will count towards your Master Scuba Diver rating. Let other divers know where you are with the PADI SMB Diver Speciality.