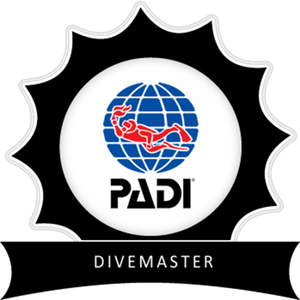 PADI Divemaster (DM)
The PADI Divemaster (DM) course is the first professional level in the PADI system and develops your leadership skills. A Divemaster is someone who can take charge of diving activities and assist an instructor in the training of other divers.
The course trains you to supervise dive activities and assist instructors with student divers. This is the first step in your dive career and you can work towards becoming an Instructor The course should not be taken lightly as the aim is to produce a responsible and capable Divemaster. There is no time limit on our course as the only way to become a good Divemaster is to practice.
What You Learn During the PADI Divemaster (DM) course:
Learn about supervising certified divers, assisting with students, risk management.
Study the Dive theory, diving skills, the underwater environment
Independently conduct certain PADI programs and courses.
Prove your water skills and stamina.
Demonstrate skills for students and continue to practice your rescue techniques.
Complete an emergency assistance plan
Draw out an underwater map
Participate in a number of pool and open water workshops including deep and search & recovery dives.
Our dive centre is run by our PADI Course Director who coordinates all professional-level courses. Candidates are allocated a mentor to guide them through the course. Divemasters wishing to work for us will have their H.S.E medical paid for by the centre after an internship period.
The Divemaster candidates should have their own masks, fins, and snorkel and we will provide any other required equipment throughout the course. Transport, accommodation, dive site entries, boat fees, gas fills whilst at dive sites and PADI application fee are not included in the course price.
THE DIVEMASTER COURSE IS INCLUSIVE OF MATERIALS
As a PADI Divemaster, you'll not only get to dive a lot but also experience the joy of seeing others have as much fun diving as you do.