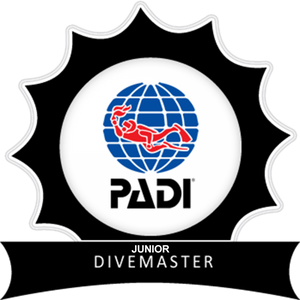 PADI Junior Divemaster (DM)
The PADI Junior Divemaster course is a great way to get your youth divers involved with diving. It offers them all of the same awesome benefits as if they were taking part in the full-grown version, but at a more manageable age and pace for those just starting out or who may be less confident about their abilities underwater.
PADI Junior Divemaster Course Prerequisites:
Certified PADI Advanced Open Water Diver and PADI Rescue Diver
Minimum age of 15
Logged 20 scuba dives
What You Learn During the PADI Junior Divemaster (DM) course:
Complete the e-Learning for PADI Divemaster, this includes all 9 chapters knowledge reviews and the Junior Divemaster Exam
Prepare an emergency action plan and a mapping project
Search and Recovery Scenario
Water skills development includes:

Swims
Snorkel Swim
Tired Diver Tow
Tread Water
24 Skills Workshop
As well as this, the candidate will need to meet the professionalism criteria from the Divemaster course.
Once qualified as a PADI Junior Divemaster, you will be able to:
Dive site setup and management
Surface support
Assist a PADI Instructor in 2 person skill demos
Dive Site briefings (Supervised)
Environmental and promotional presentations
Our dive centre is run by our PADI Course Directors who coordinate all professional-level courses. Candidates are allocated a mentor to guide them through the course. 
The Divemaster candidates should have their own masks, fins, and snorkel and we will provide any other required equipment throughout the course. PADI application fees are not included in the course price.
You will not be able to work in a supervisory role until you've turned 18 and completed the full Divemaster course.
THE DIVEMASTER COURSE IS INCLUSIVE OF MATERIALS
As a PADI Divemaster, you'll not only get to dive a lot but also experience the joy of seeing others have as much fun diving as you do.