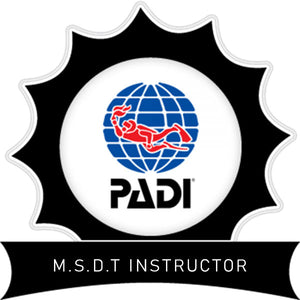 PADI Master Scuba Diver Trainer
The PADI Master Scuba Diver Trainer sets you apart from an original Open Water Instructor who takes continued education seriously and the instructor is then certified to teach a variety of specialty courses.
Becoming an MSDT shows that you've got the experience and certifications to offer all the necessary training a diver needs to become an MSD- which is the highest rating for a recreational diver.
You will:
Learn from our experienced instructors while you teach the whole range of courses alongside them
Get comfortable teaching with the benefit of feedback which will improve your techniques while you develop your own style
Fully understand the instructor outline and academic portion of each chosen specialty course
Practice the skills required for the water portions of each specialty chosen
Teaching specialties and taking your student's wreck diving or nitrox diving will give you a wider range of dive options as well as making you more employable!
Prerequisite
All PADI Instructors who have certified a minimum of 25 PADI Divers
and have earned at least five (5) PADI Specialty Instructor certifications, can apply to become an MSDT
Are you a new instructor or have you just finished the IE?
We have two (2) in house PADI Course Directors who are here to help you complete your Specialty Instructor Training qualification and with the support of the team, we will help you gain the certifications you require to achieve the PADI MSDT.