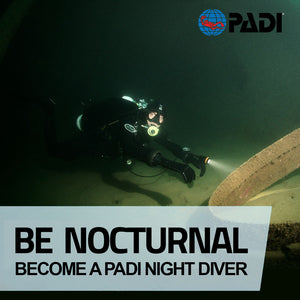 PADI Night Diver Specialty
No matter how often you dive a site during the day, diving it at night brings out a whole new dimension to what you see. Learn to prepare, plan and execute night dives safely and open up this fascinating side to the undersea world.
Observe creatures that you would not normally see during the daylight hours, plus those that you think you know well often behave completely differently during the twilight hours.
The fun part
The fun part of this course allows you to see the marine environment in a unique light (no pun intended!).
What do I need to start?
Participants must hold a minimum diver certification of PADI Open Water Diver or an equivalent rating
Minimum Age: 12 Years old
What will I do?
You'll learn:
The appeal of night diving.
Night diving equipment.
Planning night dives.
Reacting properly to special night diving situations.
Night diving techniques.
Before, during, and after each of the Three Open Water Dives you will be required to demonstrate the practical application of all aspects of planning and preparation, plus demonstrate correct diving protocols and skills commensurate withholding a Night diver certification.
How long will it take?
Three dives over two days
What will I need?
PADI eLearning Theory

Its recommended owning your own gear or if you don't have your own gear, gear will be included on your course price except for TORCHES