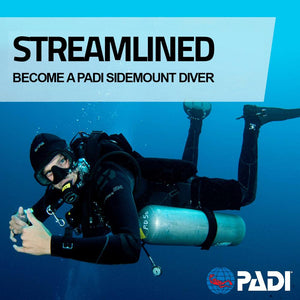 PADI Sidemount Diver Specialty
Find a new and different way to configure your cylinders with the PADI Sidemount Diver course. Sidemount diving offers:
An alternative way to streamline in the water
Easier equipment transportation when topside
Reduced lower back strain
Provides redundant gas supply
Ability to monitor all equipment because it's in front of you
Increased gas supply for longer dives
You are able to move the cylinder from your back to your side, it instantly takes the pressure off of your back and gives you more flexibility to move and enjoy your dive. You don't have to walk to the dive site with the cylinders on your back as you can now enter the water and clip them on and go.
Prerequisites:
PADI Open Water Diver At least 15 years old
You can easily combine side mount diving with any other PADI Specialty you take.
What's Included?
Sidemount (SM) Equipment Workshop
Harness & Regulator Workshop
Knowledge Development Session
SM Worksheets & Notes
1 x Pool Dive
3 x Training Dives
PADI Certification Fee
4 dives over 2 days.
Where do I go from here?
As you have more gas, this means you can stay down longer.
Take the PADI Drysuit Diver to enjoy longer dives without getting too cold.