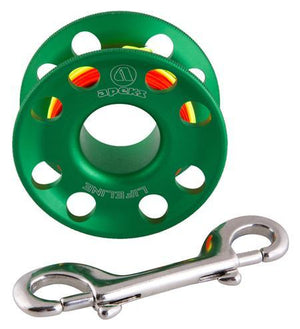 Apeks Lifeline 30m Spool
This is the Apeks Lifeline 30m Spool which if you like geeking out to a bit of technical stuff, then this spool will allow you that indulgence. Apeks diving gear has been inspired by technical diving and subsequently means the design of the products has been well thought through with an attention to detail. Considering there are many spools on the market in the words of Private Pile of Full Metal Jacket "There are many like it, but this one is mine!".
But why? The Apeks Lifeline spool has been designed to be very easy to grip. Its flared sides make controlling this spool while line laying or winding in during SMB deployment are brilliant. Apeks chose to use a very strong anodized aluminium alloy and combine this with a high visibility line, ideal for low light conditions. The spools line is fitted with a super tough leader and swivel as standard. The Lifeline comes in four sizes and colors and is complemented by a range of line markers and cookies.
Lifeline Spool Features
Unique flared design to allow ease of winding whilst wearing gloves and an outer grip for ease of use.
A large diameter centre hole for use in cold water whilst wearing gloves.
Colour coded to allow ease of identification of each size.
High quality, high visibility line.
Rugged construction.
High tensile line leader to avoid damage to main line when 'tying off'.
Line swivel to prevent line entanglement and twisting.
Machined from one piece of aircraft grade aluminium.
Anodised coating.
Spool is not over-wound, enabling additional line to be added if required.
Includes stainless steel bolt snap.
Designed and manufactured in the UK.
Line is sewn instead of tied to increase strength.
Orange line, best for low light conditions.
Easy-release pull tabs.
Available in also available in the following length spools:
Check out our full selection of reels here! Or have a look at our full range of Apeks Dive Gear.