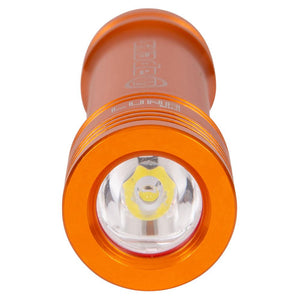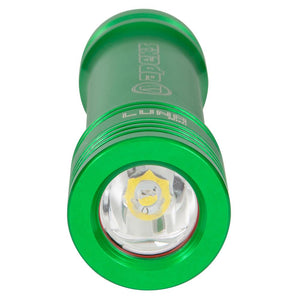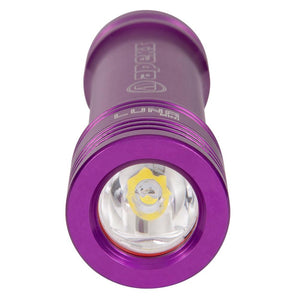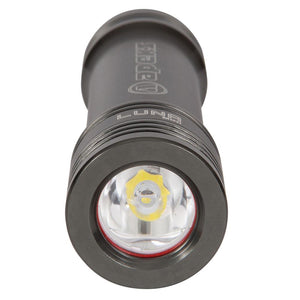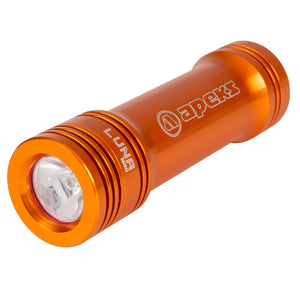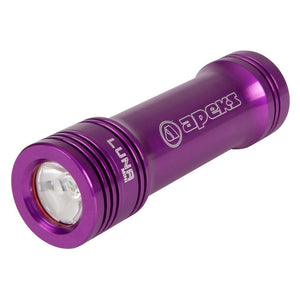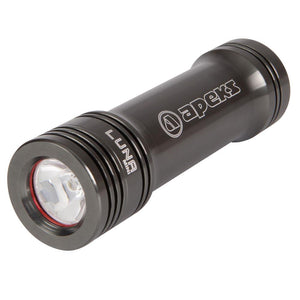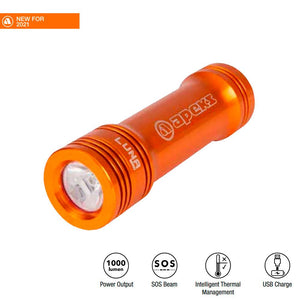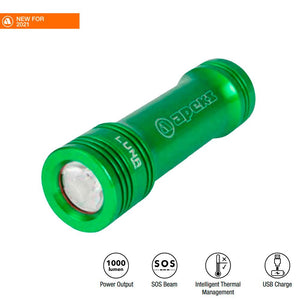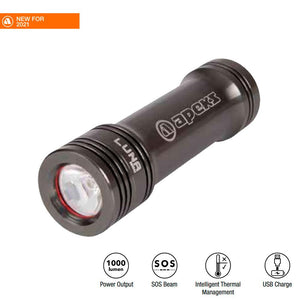 Apeks Luna Mini Torch
When slicing through the dark is your primary mission, the Apeks Luna range of torches will fill you with the reassurance you need and the intensity of light you demand. This exclusive range of British-built torches sets a new standard in subaquatic illumination.
The Apeks Luna Mini is a compact torch that packs a punch. With 1000 lumens max output, three power settings offering up to 6 hours run time and a USB rechargeable battery, it ticks all the boxes for both a primary and backup torch. With a marine-grade aluminium casing and available in 4 colours, this lightweight torch is perfect for life beyond diving too.
Apeks Luna Mini Benefits
Compact and lightweight - can be used as both a primary or backup torch
Choose your power settings to optimise run time, low, medium or high power.
ITM (Intelligent Thermal Management) - Patented circuitry within the light reduces power to the LEDs if they go beyond

the optimum temperature, keeping the light as efficient as possible to maximise output and battery capacity. Once the light has cooled, the power is automatically restored.

No need to open the torch to recharge the battery, which reduces the possibility of leaks.
Features a dedicated SOS Strobe for emergency use in or out of the water
Supplied in an Apeks branded reusable zippered case to protect the torch during storage and travel.
Multi-use - ideal for camping trips or keeping in your car in case of emergencies.
Luna Mini Features
Factory sealed casing machined from anodised marine grade aluminium
SOS strobe setting
Supplied in a protective zippered case
Supplied with a wrist lanyard
Available in 4 colours - orange, green, purple and grey.
Plastic free packaging
Designed and manufactured in the UK.
Luna Mini Technical Specifications
Output
LED Configuration: 1 x White XPL2
Lumens: Max 1000
16degree Spot beam angle
Battery
Battery: 3400 mAh Lithium-Ion
Runtime: High 1.5hrs|Medium 3hrs|Low 6hrs
Rechargeable: Through Case USB
Charge Time: 4hrs
Construction
Weight: 113g
Marine Grade Anodised 6063 Aluminium
Water Resistance IPX8 100m
Dimensions
Length: 107mm
Head Diameter: 32mm
Check out our full selection of dive torches here! Or have a look at our full range of Apeks Dive Gear.