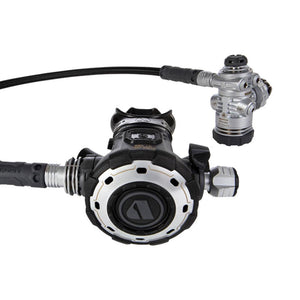 Apeks MTX-RC Regulator
Introducing the brand new Apeks MTX-RC Regulator for 2020. Whether you want to dive in warm water, extreme cold water, dive deep or in a cave, this is the regulator you will want to breathe from. The MTX-RC allows complete control over your breathe while underwater.
The Apeks MTX-RC has evolved from the original MTX regulator that involved military-grade engineering with the super-smooth breathing. Apeks launched the MTX-R Regulator realising that all divers could benefit from the technology involved in this regulator. The MTX-RC is the regulator that takes all this and allows you to explore more in the knowledge of military technology.
Featuring the same freeze-resistant technology enjoyed by the whole MTX-R range, the MTX-RC resists free-flows in even the coldest temperatures, while offering the user the additional flexibility to adjust the settings for more comfortable breathing in less extreme environments.
All this is achieved using an innovative first stage design that protects the regulator from freezing and a full set of user controls on the second stage to adjust the breathing performance based on the diver's individual needs.
Includes a tactical style messenger bag to keep your regulators safe on your travels. Perfectly sized for a laptop, it's also your new work bag!
Apeks MTX-RC Regulator First Stage
Satin plated brass body with heat exchanging ribs for maximum thermal performance.
Breakthrough, innovative over-moulded first-stage endcap and environmental diaphragm help prevent ice build-up that can cause first stage free flow in extreme circumstances. It also protects the first stage from impact damage.
Ribbed diaphragm clamp for improved heat exchange in cold water conditions.
Unique over-balanced diaphragm design as the diver descends, the over-balancing feature allows the medium pressure gas in the hose to increase at a faster rate than ambient. This results in superior performance at depth.
5 x medium pressure ports, 4 mounted on a rotating turret for improved hose orientation
2 x angled high-pressure ports for optimal hose routing and fitting of transmitters.
Double swivel hose for greater freedom of movement and comfort.
Easy to grip DIN hand-wheel or over-moulded yoke hand-wheel, only requires one hand to release.
DIN, Yoke and M26 Thread available, 300bar, 232bar and M26 300bar (O2) respectively.
Tested for Octopus use - EN250A to 60 metres cold water.
Nitrox/Oxygen Compatible Up to 40% O2 outside the EU (European Union), within the EU anything above 21% O2 must use an M26 Connection.
Apeks MTX-RC Regulator 2nd Stage
Protective bumpers to protect the second stage from impacts and scratches in the most vulnerable places.
Ergonomic and simple to use venturi lever.
Oversize breathing effort adjuster makes adjustment easy in cold water whilst wearing gloves.
Large purge button.
The reversible second stage for either a left or right-hand gas supply configuration.
A heat exchanger (patented) dissipates the cold caused by gas expansion while drawing in the warmth of the ambient water for a more comfortable breathe.
Features an innovative Diver Changeable Exhaust system (DCE). The system gives the diver the ability to change from a small exhaust tee to a large exhaust tee. The regulator is supplied with both sets of exhaust tees.
Comfo-bite mouthpiece
Flexible nylon braided hose, which has better cold water performance than traditional rubber hose.
Designed and manufactured in the UK.
No single-use plastic in the packaging
Check out our full selection of regulatorshere! Or have a look at our full range of Apeks Dive Gear.