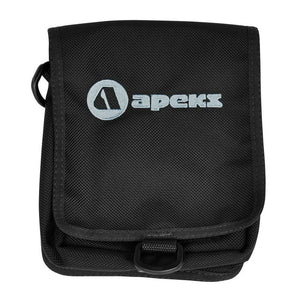 Apeks WTX Tek Small Cargo Pocket
The Apeks WTX Tek Small Cargo Pocket can be fit to the front of the Large Cargo Pocket or directly to the WTX harness. It is an excellent size for carrying slates, floats, line markers, or extra weights.
A full range of Apeks Tek pockets has been designed to complement the WTX range. They can be attached to your WTX system or any other BC/Wing and/or drysuit. The system is modular so you can attach one pocket to the other if space is at a premium. A separate stainless steel hardware kit is available for this.

The WTX and WTX-D Series is a selection of harnesses, buoyancy cells, and accessories which offer unparalleled versatility due to the modular nature of the whole system. Each component can be configured into a highly technical rig for those trained to push the limits or scaled down to make a travel-friendly set up suitable for any diver.