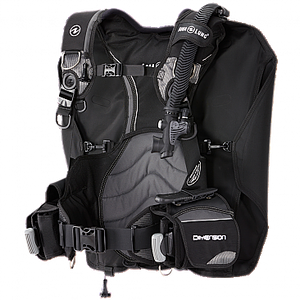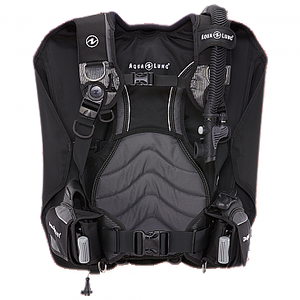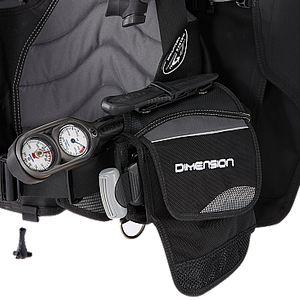 Aqua Lung Dimension BCD
Aqua Lung's high standards put the Dimension BC far above the standards in back inflation-style BCDs. This BCD incorporates the Aqua Lung Wrapture™ harness system as well as the innovative SureLock™ II mechanical weight release system, and is made of specially developed ResisteK™ material to stand up to the most rugged conditions in salt or chlorinated water without fading or abrasion.
Features
Wrapture™ Harness System

 

Wrapture™ Harness System: patented swivel shoulder buckles and ultra-thin back plate provide unsurpassed comfort and prevent the BCD from riding up on the surface. Out of the water, the system allows you to stand up straight by keeping the cylinder close to your center of gravity and transferring the weight to your hips
SureLock™ II Weight Release

 

Safe, single-pull weight release with patented SureLock™ II Mechanical Weight Release System
ResisteK Material

 

Looks good, and stays that way: made of new, technologically advanced ResisteK™ material to resist fading and abrasion in saltwater and chlorine
HP Hose Routings

 

HP hose routings through the back keep your entire kit low profile, minimizing drag
Smooth, Flat Valves

 

Proprietary flat valves further reduce drag
Bladder Retraction System

 

Bladder retraction system pulls in the sides of the bladder during deflation to keep you streamlined and reduce drag
Adjustable Chest Strap

 

Adjustable sliding chest strap can be raised or lowered on a rail system for added comfort. Helps you avoid drysuit valves
Additional Dump Option

 

Right shoulder pull
Gear Up!

 

Multiple pockets, D-rings, and knife attachment points make stowing and accessing gear easy
Rolled Neck Collar

 

Comfortable rolled neck collar
Non-Ditchable Weight Pockets

 

Located on the back of the BCD, these pockets help you achieve proper positioning in the water
Capacity

 

All sizes of the Dimension are capable of holding up to 30lbs/13.5kg of lead weight.