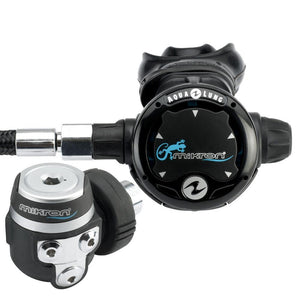 Aqua Lung Mikron ACD Regulator
The Aqua Lung Mikron ACD Regulator is the smallest and lightest weight regulator in the Aqua Lung line. Weighing in at just 26 oz. (din) and 31 oz. (yoke), this regulator is perfect for the travelling diver. Even more amazing is the performance is not sacrificed by the extreme compactness of the regulator. Its balanced first and second stages produce excellent breathing performance.
First Stage
Compact dimensions and low weight blend comfort with a unique diving experience
A braided hose, weighing less than 5 oz., provides flexibility, comfort and excellent packability
The first stage is a balanced diaphragm type that sports 2 HP ports (7/16) and 4 MP ports (3/8)
The reduced size and weight makes the Mikron the ideal choice for travelers and young adults
The balanced diaphragm first stage, by the nature of its design, is environmentally sealed and provides excellent, consistent performance
Available in yoke (3300 psi / 232 bar max) or din (4350 psi / 300 bar max)
The T-shape of the first stage optimizes the location of the 4 MP ports and 2 HP ports
Uses parts that are common to other Aqua Lung models for easier servicing
Compatible with EAN 40 new, out of the box
Compatible with up to 40% O2 right out of the box
Second Stage
Pneumatically-balanced second stage results in smooth, easy breathing
The second stage has an adjustment knob that allows the diver to optimize the opening effort. In the Min position, the opening effort is increased, which is ideal for avoiding free flows at the surface. In the Max position, the inhalation effort is lowered, reducing the work of breathing
Available in two colors: a black/blue and a black/pink
Equipped with Aqua Lung's patented Comfobite mouthpiece along with a reusable mouthpiece clamp
Black/pink version features a smaller Comfobite mouthpiece designed for smaller mouths, and a detachable silicone bridge which fits across the upper palate
Check out our full selection of regulators here! Or click here for our full range of Aqua Lung products.