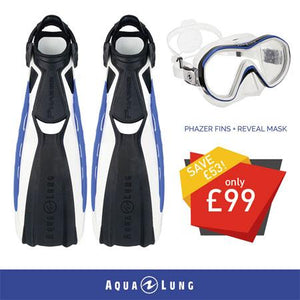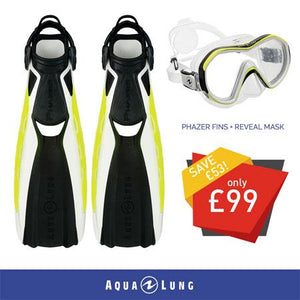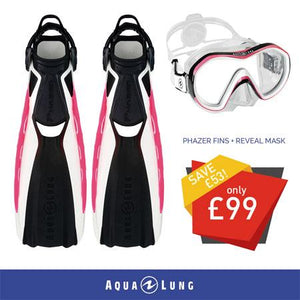 Aqua Lung Phazer X1 Package
Start your snorkeling or scuba diving adventure in style with Aqua Lung Phazer Package today! The Aqua Lung Discovery Pack includes the Phazer Fin and the Reveal X2 Mask.
Aqua Lung Phazer Fin
From beginner to expert, the Aqua Lung Phazer fin comes with its revolutionary composite wave rib technology, providing the perfect balance for divers to produce powerful kicks with easy but energy-maximising movements. Designed and produced with a tri-material construction and an advanced canalisation system, everything about this fin is engineered to optimise the energy you load and release with every kick.
Aqua Lung Reveal X1 Mask
The Aqua Lung Reveal X1 Mask offers you innovative features that make this dive mask Aqua Lung's most comfortable and best-fitting mask. Created after years of research and testing, the Reveal X1 is a premium diving mask that delivers ultra-comfort and a perfect fit thanks to both a super soft, top quality crystal-clear silicone and an ergonomic skirt profile.
The new buckles, attached directly to the silicone skirt, feature a single quick-button release system and the mask is equipped with an innovative spherical silicone headband strap to help the diver create the perfect leak-free fit. The large operating button is easily activated, even with thick gloves.