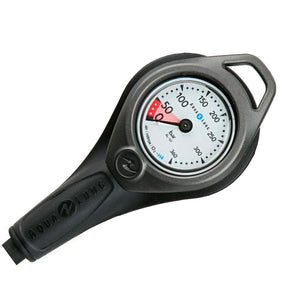 Aqua Lung Single Pressure Gauge
The Aqua Lung Single Pressure Gauge delivers both remaining air pressure and temperature in one easy-to-read display.
Easy-to-read scale up to 5,000 PSI / 350 bar rated
Luminescent gauge face for easy reading in low light
Integrated temperature scale
Nitrox compatible up to 50%
Swiss made, shock resistant Bourdon tube
One way safety valve
Hose length is 36inch (91.44cm)
Check out our full selection of gauges here! Or click here for our full range of Aqua Lung products.