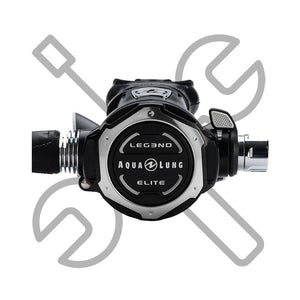 Aqua Lung Regulator Servicing
If you need your Aqua Lung Regulator Servicing, then DiveWise is one of the country's leading scuba diving equipment service centres. We have three qualified service technicians who work at the store in our custom-built service centre.
Your Aqua Lung regulator will be serviced with Aqua Lung Service Tools with the most current processes by an Aqua LungService Technician. We have a full range of genuine service kits for all current Aqua Lungregulators and most dis-continued regulators. Our service technicians also offer Oxygen Cleaning of regulators for an extra charge. Please advise us if this is required during the booking process.
What is included in the standard
Aqua Lung

Regulator Service?
1 X First Stage Service
2 X Second Stage Service (Primary & Octopus)
1 X

Aqua Lung

First Stage Service Kit
2 X

Aqua Lung

Second Stage Service Kits
Ultrasonic Cleaning of The Fitting Ends of Each Hose
Ultrasonic Cleaning of The High-Pressure Swivel Pin
Replacement High-Pressure O-Rings on The Swivel Pin
Replacement Low-Pressure O-Rings on All Hoses
All Labour Costs
Aqua Lung Regulator Servicing Process and Time Frames
To ensure your regulator comes to you to the highest possible standard we run a specific procedure for servicing:
Strip Down, Clean and Dry
Assemble each part (1st, 2nd Octo)
Leave the Parts to bed in for 24hrs
Assemble the Regulator and Balance
Complete a Wet Test to ensure the Regulators performance
The usual turnaround is 7-10 days, however, but faster times can be arranged with prior notice. If you do leave it to the last minute and your regulator does need servicing, we will lend you a set of Apeks Regulators from our rental fleet free of charge.
Aqua Lung Regulator Service Warranty
All servicing provided by DiveWise comes with a 3-month warranty and all regulator servicing is completed within BS1003 standard.
We offer a full range of Regulator Servicing and Scuba Diving Services that are not limited to this service.