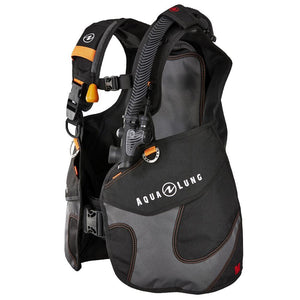 Aqua Lung Wave BCD
The Aqua Lung Wave BCD is an entry level, wrap-around jacket style BCD. It has a legacy of being rugged and fade-resistant but now it offers so much more. You now get a stylish BC that has the clever ability to add an optional weight-integration system! You can dive it in its standard form using a weight belt and then later upgrade it to weight pockets featuring the SureLock II weight system. It's versatile, it's rugged, it's sharp, it's a Wave.
Features
Made from tough, fade-resistant 1000D Armorshield Cordura
Accepts an optional SureLock II weight system. The SureLock II mechanical weight release system (patented) provides a safe, single-pull release. Inserting weight is as simple as insert and click. With SureLock, your weights are secure in the BC. Once engaged, the only way to release the weight is to pull on the handle
A proprietary backpack has a built in carrying handle and a traction pad to reduce tank slippage.
The waistband is adjustable in the back to accommodate a wide range of waist sizes
A scooped octo-pocket on the top, front of the right lobe makes it easy to stow and deploy an octopus. The octopus remains visible and accessible throughout the dive
Some divers may find it useful to run their instruments behind the left pocket and out the scooped opening on the top, front of the lobe
Large, easy-to-access, utility pockets are found on either side
Features 2 stainless steel flat D-rings for all of your accessories.
Right shoulder pull dump with hi-viz orange pull bob is easy to locate and use.
Lower rear dump with hi-viz orange pull bob is useful for horizontal or head down orientation
The chest strap can be adjusted for personal comfort
The exterior is fade resistant and abrasion resistant
Check out our full selection of BCDs here! Or click here for our full range of Aqua Lung products.