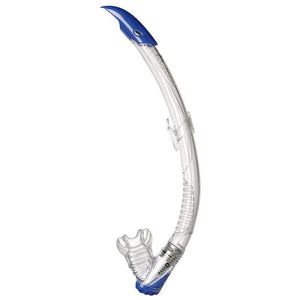 Aqua Lung Zephyr Snorkel
The Aqua Lung Zephyr Snorkel was designed and is manufactured in the Aqua Lung facilities in Genoa, Italy. A splashguard and purge valve helps to eliminate water ingress and provides for easy clearing and an integrated corrugation zone make this a unique and stylish snorkel.
Features
The Zephyr has a splashguard with a purge channel on the top of the snorkel to prevent water ingress
is an elliptical purge valve at the bottom for easy purging of any water that makes it past the upper splash guard and purge channel
Integrated corrugation zone that allows for flexibility like a flex snorkel, but the rigidity of a non-flex
The lower section rotates, allowing the user to get an ergonomic fit and allows for reduced jaw fatigue.
Patented Comfobite mouthpieces, which does not require the user to clench their teeth, eliminate jaw fatigue
An optional, smaller size Comfobite is available
Comfobite mouthpieces are replaceable
Check out our full selection of snorkelshere! Or click here for our full range of Aqua Lung products.