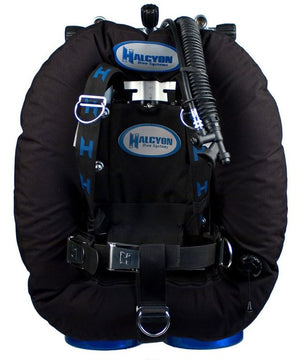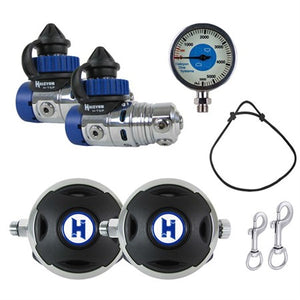 The Halcyon Evolve™ maintains a novel, industry first-design. This unique circular wing provides unprecedented control, allowing divers to easily fine tune their buoyancy, regardless of diving position.
Individuals diving in all environments will appreciate the ease of adjustment and the streamlined, cylinder-hugging design of the Evolve.
Whether swimming or scootering, the Evolve cuts through the water with less drag and greater efficiency, encouraging less effort and more diving enjoyment.
Regulators are the H-75P first stage balanced piston complete with Halo second stages.
Key features:
Evolve 40-lb BC System w/ SS backplate

2 pcs Halcyon H-75P First Stage only, Balanced Piston

 2 pcs Halcyon Halo Second Stage, balanced, incl 40" (102cm) LP Hose

 LP 3/8" 210 cm

 LP 3/8" 62 cm

 HP 62 cm

 Halcyon Master Submersible Pressure Gauge 63mm, 0-400 bar

 1 pcs Boltsnap 90 mm for longhose. backup light (cold water)

 1 pcs 105 for SPG

 Bungee necklace