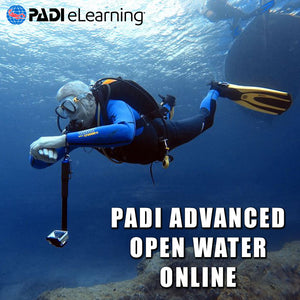 PADI Advanced Open Water Theory Online
The PADI Advanced Open Water Diver eLearning is designed to improve your underwater knowledge and skills. You can enroll immediately after earning your PADI Open Water Diver certification regardless of your skill level. The course helps you build confidence in navigation, fine-tune buoyancy skills and introduces you to different diving activities such as wreck diving, night diving or underwater imaging.

After completing your eLearning, you'll make five Adventure Dives: a deep dive (beyond 18m/60F), a navigation dive, and three additional Adventure Dives of your choice to earn your certification. *This course fee only covers your online training, assessments and certification card. Practical training fees, dives, dive equipment, student slate and logbook are available at additional fees via your PADI Dive Center.
What is the PADI Open Water Theory Online?
Get started immediately after purchasing the Advanced Open Water Diver eLearning course The web-based system lets you learn about seven of the most popular Adventure Dives – including the required Deep and Underwater Navigation Adventure Dives, plus Boat, Night, Peak Performance Buoyancy, Underwater Naturalist and Wreck Adventure Dives. You study at your own pace through an easy to use, interactive program.
You also have access to an online version of the Adventures in Diving manual and can complete sections for other Adventure Dives as directed by your PADI Instructor. As part of the enrollment process, you'll affiliate with a PADI Dive Center or Resort and you can message them via the eLearning program. Connect with your PADI Pros to determine which Adventure Dives you should read and to schedule your practical dive training.
What is included in the Touch materials?
Your eLearning purchase covers basic knowledge and safety concepts to make the two required dives (Deep and Underwater Navigation Adventure Dives), and five of the most popular elective dives (Night Dive, Peak Performance Buoyancy Dive, Wreck Dive, Boat Dive, and Underwater Naturalist Dive).
By purchasing this option you are only getting the Digital Touch materials and does not include the pool and open water training you need to complete the course.
What is not included in the Touch materials?
The pool and open water training are not included, however, these portions of the course can be purchased as an upgrade at any point.