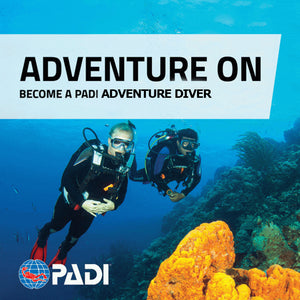 PADI Adventure diver
Exploration, Excitement, Experiences.
PADI Adventure Diver, you don't have to be "advanced" to take it.
The course is designed so you can go straight into diving after the PADI Open Water Diver course.
Adventure Diver course helps you increase your confidence and build skills so you can become more comfortable in the water. This is a great way to get more dives under your belt while continuing to learn under the supervision of your PADI instructor. The course builds on what you've learned and develops new capabilities by introducing you to new activities and new ways to have fun scuba diving.
Adventures in Diving program offers both the PADI Adventure Diver and PADI Advanced Open Water Diver certifications. Complete any three adventure dives, you can earn your PADI Adventure Diver certification.
If you complete your Deep Adventure Dive, Underwater Navigation Adventure Dive and three Adventure Dives for a total of five, you can earn your PADI Advanced Open Water Diver certification.
Why Adventure Deep Diver?
As you are more experienced, feel more comfortable in the water and simply enjoy diving, what next? Ready to go that little deeper? This certification allows you to safely dive to a maximum of 30 meters.
What do I need to start?
PADI Open Water Diver certification (or qualifying certification from another organisation). Minimum age: 15 years old (12 for the PADI Junior Adventure Diver and PADI Junior Advanced Open Water Diver) Medically fit for the experience, complete our Medical Form
What will I do?
Any of the following Dives
Boat Diver
Drift Diver
Dry Suit Diver
DPV Diver
Dive Against Debris
Multilevel Diver
Night Diver
Peak Performance Buoyancy
Search and Recovery Diver
Underwater Naturalist
Underwater Photographer
Navigator
AWARE Fish Identification
Wreck Diver
Nitrox Diver
How long will it take?
Normally it takes 2 days diving.
What will I need?
The PADI Online learning theory.
All equipment needed for any training will be supplied by the centre plus all major items for the open water dives.
NOTE: At this stage of your diving you are expected to own basic equipment (mask, fins, snorkel, boots, and gloves). You can hire for the duration of the course.