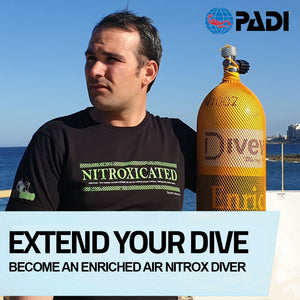 PADI Enriched Air Nitrox Specialty
The PADI Enriched Air Diver course is PADI's most popular specialty diving course, and it's easy to see why. Scuba diving with enriched air nitrox gives you more no decompression dive time. This means more time underwater, especially on repetitive scuba dives.
The Fun Part
You can stay down longer and get back the water sooner and that's why so many divers choose this as their very first specialty.
What do I need to start?
Be 12 years or older
Have a PADI Open Water Diver certification (or have a qualifying certification from another organization)
What will I do?
You will be provided with the knowledge needed to plan and execute recreational Nitrox dives.
Techniques for getting more dive time by using enriched air nitrox.
Enriched air scuba diving equipment considerations.
Managing oxygen exposure, how to tell what's in your scuba tank, and how to set your dive computer.
How long will it take?
1-day course and consists of 1 knowledge development, 1 practical application & Labeling session
What will I need?
E-Learning theory
Where can I go from here?
PADI Enriched Air Diver course now opens more doors for you. Hop onto the PADI Wreck Diver Specialty to now explore the wrecks for even longer
Course price does NOT include Diving