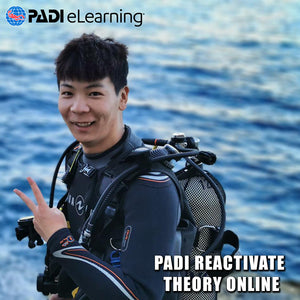 PADI ReActivate Theory Online
Update your dive skills and knowledge with a quick scuba refresher from the PADI Open Water Diver Course before jumping back into the water.
Description
Haven't been diving lately and want a quick scuba refresher? The PADI ReActivate™ program is the perfect way to update your dive knowledge and review basic scuba skills. Whether you just need a few reminders or want a more comprehensive review, this program provides an engaging, prescriptive refresher of scuba principles and procedures.
The program has two components:
1) a knowledge review that includes interacting with ReActivate eLearning and
2) a dive skills refresher you complete with a PADI Professional. - BOOKED separately
After successfully completing both components, a PADI Diver receives a replacement certification card showing a "ReActivated Thru" date. Divers initially certified through other training organizations (with proof of at least an entry-level certification) receive ReActivate Recognition Cards.
Academic
ReActivate eLearning has 20 main sections with scenarios that help you recall and apply what you know and want to refresh in an integrated manner. You'll answer several questions and either move on to the next section or review additional background information for more detail. It's intuitive and interesting.
Examples of section topics include:
dive preparation
boat diving
dive computers
aquatic life
handling problems
diving health and fitness
To complete your knowledge refresher, you'll be prompted to complete the ReActivate Quick Review. ReActivate eLearning also includes a dive skills review with video demonstrations along with RDP and enriched air diving reviews.
Available Languages
For information on other available languages please contact Divewise through email to confirm available languages
Equipment & Once Booked through Divewise
You'll need basic scuba equipment to participate in the confined water skills refresher.
Hiring of equipment is available
Getting Started
Sign up for ReActivate eLearning to start now. You can work through the sections and scenarios using a web-based system that lets you learn at your own pace.
Stop by Divewise or email info@divewise.com.mt to schedule the in water portion of ReActivate.