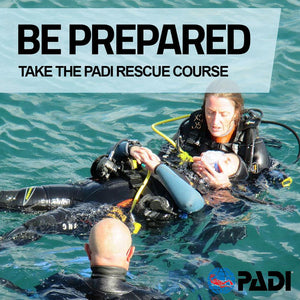 PADI Rescue Diver
The PADI Rescue Diver is one of the most fun, but hard work, scuba diving courses you will complete during your diving adventures.
What You Learn
As PADI Rescue Diver you will learn:
Self-rescue
Recognizing and managing stress in other divers
Emergency management and equipment Rescuing panicked divers
Rescuing unresponsive divers
What do I need to start?
You must be certified as a PADI Advanced Open Water Diver or have a qualifying certification from another training organization.

Minimum age: 15 years old (12 for PADI Junior Rescue Diver)
Medically fit for the experience, complete our Medical Form
Certified in a CPR program within the past 24 months. (The Emergency First Response Primary Care (CPR) and Secondary Care (First Aid) courses meet these requirements.)
What will I do?
Rescue Diver training will prepare you to prevent problems and, if necessary, manage dive emergencies.
During the course you will cover:
Self-rescue and diver stress
AED and emergency oxygen delivery systems
Dive first aid
Swimming and non-swimming rescue techniques
Emergency management and equipment
Panicked diver response
Underwater problems
Missing diver procedures
Surfacing the unconscious diver
In-water rescue breathing protocols
Egress (exits)
First aid procedures for pressure related accidents
Dive accident scenarios
How long will it take?
As little as three days.
The initial training is completed in a swimming pool then it's into open water for one day for the scenarios.
What will I need?
PADI Rescue Diver Online Theory
Pocket Mask

- MUST BE PURCHASED

Students are expected to own basic equipment (mask, fins, snorkel, boots, and gloves) but gear is included in the course price
Where can I go from here?
The PADI Rescue Diver certification is a prerequisite for all Professional level PADI courses, beginning with a
PADI Divemaster
certification.