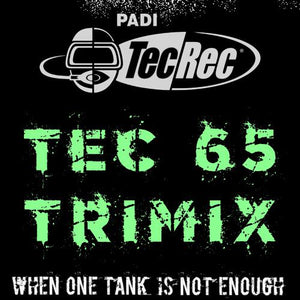 PADI Tec 65 Trimix
The PADI Tec 65 Trimix course introduces divers to the first stages of trimix diving enabling the diver to make trimix decompression dives that employ nitrox and oxygen for accelerated decompression using trimix with 18 percent or more oxygen as bottom gas up to a depth of 65 meters. The course consists of self-study followed by five open water dives conducted over four days.
To enroll in the PADI Tec 65 Trimix you need to:
Be a minimum of 18 years of age. Be certified as a PADI Rescue Diver or have a qualifying certification in diver rescue and accident management from another organization. Students who meet this through a qualifying non-PADI certification need to provide proof of CPR and first aid training within the previous two years.
Certified as a PADI Tec 50 Diver or have a qualifying certification in deep decompression diving from another organization. Students who qualify through a qualifying certification other than PADI Tec Deep Diver must read the Tec Deep Diver manual and complete the knowledge reviews prior to beginning the course.
Have a minimum of 100 logged dives.
Included in the course are Tec Trimix Manual and certification. Tec Deep Manual (if required), equipment hire, diving fees, transport, accommodation, and gas fees (including instructors) are not included.
Note: Helium can be expensive so gas fees can be substantial.