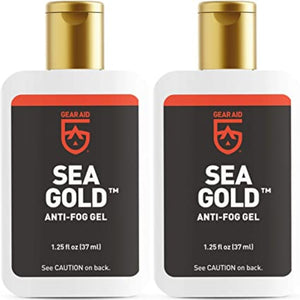 Sea Gold Anti Fog
Sea Gold is highly concentrated and designed for quick, simple, in-field application.
Sea Gold is safe for all glass and plastic lenses and will not harm surrounding silicone or rubber support frames.

Not recommended for swim goggles.

Powerful, long-lasting formula

The clear gel leaves no coloured residue

Concentrated- Provides up to 600 applications

Non abrasive- Save for all glass and plastic lenses

Non toxic, biodegradable and alcohol-free.

37 ml.