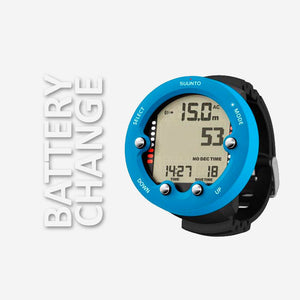 SUUNTO Zoop, Vyper Range Battery Change
What is included in the Battery Change?
To ensure your dive computer is fully functioning on you next dive.

Remove the Computer Strap, Battery Compartment Screws, O-Ring & Battery
Install the new Battery & O-Ring
Re-Fit the Dive Computer Strap
Battery Change Options and Time Frames

We offer a number of options for your battery change:
The usual turnaround is 24 hours between drop off and collection, however, faster times can be arranged by prior agreement.