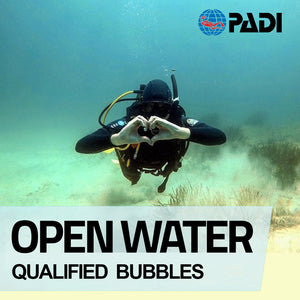 PADI Open Water Diver
This course is the world's most popular and widely recognized scuba course. Millions of people have learned to scuba dive and fell in love with our seas. If you've always wanted to take scuba diving lessons and experience adventure, this is where it starts.
To enrol in the PADI Open Water Diver course (or Junior Open Water Diver course), you must be 10 years old or older. You need adequate swimming skills and need to be in good physical health. No prior experience with scuba diving is required.
The PADI Open Water Diver course consists of the following
Knowledge Development (Online Theory)
5 Confined Water Dives to learn basic scuba skills
4 Open Water Dives to use your skills and explore!
Full scuba gear rental included
Online training materials
Certifications included
Mask & Snorkel Upgrade
The fit and comfort of your personal equipment are key to having an enjoyable diving experience, so we recommend you select mask and snorkel upgrade when you purchase your course.
Nitrox Diver Upgrade
The PADI Enriched Air Diver course is PADI's most popular specialty diving course, and it's easy to see why. Scuba diving with enriched air nitrox gives you more no decompression dive time. This means more time underwater, especially on repetitive scuba dives and get back the water sooner and that's why so many divers choose this as their very first specialty. PADI Nitrox Diver Course Info
Book To Secure Your Space:
If you are planning your PADI Open Water Diver Course in advance you will need to pay a €100 deposit to hold your place. If this is what you want to do click the PAY DEPOSIT button now.
Paying Your Balance:
If you have already paid your deposit prior to arriving at Divewise then you need to pay the €350 balance. You can do this now by clicking the PAY BALANCE button and we can take you diving.
Paying And Dive:
If you are going diving with us at Divewise and are due to get in the water soon, then click the BUY NOW button on this page to pay for you PADI Discover Scuba Diving experience right away.
Want To Know More About This Course?